The event, titled "The International fight for gender equality and decent work in the context of COVID-19", was moderated by Secretary General of Amnesty International Norway, John Peder Egenæs, and involved panelists from various sectors.
In many parts of the world, the COVID-19 pandemic has accelerated the process of shrinking democratic spaces and increased surveillance, and human rights defenders are facing the challenge of having to build their legitimacy. Governments have also used the COVID-19 pandemic as a pretext to pass laws and deny negotiations and we are seeing increased restrictions on freedom of association, the right to join unions and bargain collectively. Women and girls have been particularly vulnerable during the pandemic as a higher proportion of women work in the informal sector, where they lack protection of labour laws, social benefits, health insurance or paid sick leave. NHRF's local consultant in India, Anita Cheria, explained that in India, some women worker leaders are blacklisted as "trouble makers" and that freedom of association is not always supported. Moreover, the pandemic has also led to a rise in domestic violence, and women have become more vulnerable as lockdowns have caused limited access to the police and courts. There are reports of an increase in early marriages, pregnancy, trafficking, exploitation, chronic hunger and violence.

"Workers are now faced with a tough choice: the fear of losing their jobs by joining a trade union, or the fear of being isolated by not joining one". Anita Cheria, NHRF's local consultant in India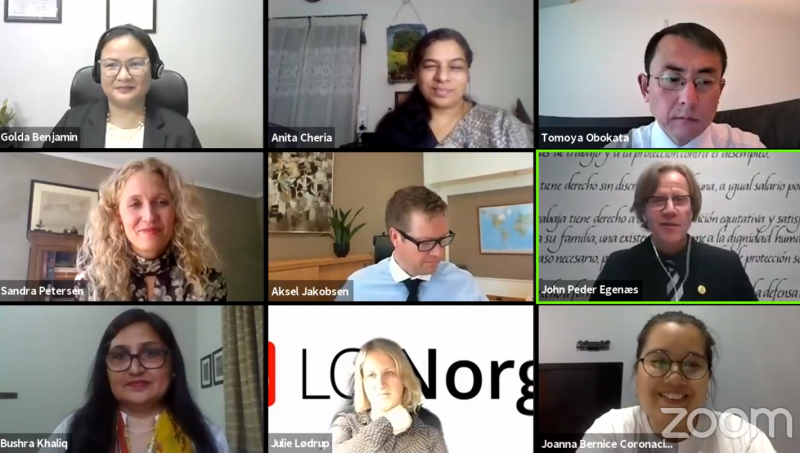 Tomoya Obokata, the UN Special Rapporteur on Contemporary Forms of Slavery, explained that there has been a dismantling of labour laws and erosion of labour conditions in countries such as India, China, Saudi Arabia, as well as in Latin American countries.

First Secretary of the Norwegian Confederation for Trade Unions (LO), Julie Lødrup, stressed that an organised labour market is essential for workers' rights and to combat modern slavery. The aim of the Norwegian Confederation for Trade Unions is to promote decent work conditions and international labour standards, such as freedom of association, abolition of child labour, elimination of forced labor and discrimination for all workers. The Norwegian Confederation for Trade Unions also works to promote gender equality and gender representation in unions. It has solidarity projects in 20 countries to help build stronger unions worldwide. Lødrup highlighted that due to a lack of capacity and resources many countries fail to conduct comprehensive labour inspections.

"Businesses have to acknowledge the fight against modern forms of slavery and decent work. The iconic space has shifted - the voluntary commitments are no longer enough." Golda Benjamin, Programme Director, Business & Human Rights Resource Centre
The Executive Director of Women in Struggle for Empowerment (WISE), Bushra Khaliq, stressed the need to establish funds to remove the debt of workers facing modern slavery, to launch a universal social protection program, to raise the minimum wage and to prevent sexual harassment. Special RapporteurTomoya Obokata underlined that it is necessary to ensure access to decent work without discrimination, to formalize the informal work sector and to assist states in the fight against modern slavery. Moreover, Golda Benjamin from Business & Human Rights Resource Centre, highlighted that businesses need to acknowledge the fight against modern slavery, improve their due diligence efforts, support strong laws, raise the voice of workers in the supply chain and examine their recruitment policies and their purchasing practices.
The new initiative from the Norwegian government to combat modern forms of slavery through compulsory legislation for Norwegian companies was also explored in the webinar. The proposed government act on due diligence in global supply chains seeks to regulate enterprises and promote transparency in supply chains. The objective is to contribute to changes in global supply change and to strengthen global labour rights.
Watch the webinar here: