This is the first out of two blog posts that concerns the COVID-19 pandemic and its consequences in Pakistan.
Pakistan tested its first coronavirus-positive case on February 26th – a young man who returned from Iran after pilgrimage. The number of cases has increased to 8,349 as of 19th April 2020 with 168 deaths, which is approximately 2 % of those who has tested positive.
As of April 19th, a total of 98,522 tests have been conducted so far, which is suggesting two very disturbing trends: That the testing capacity of the government in a country with over 200 million people is very low. Also, if the current trend of 10 % are testing positive continues in the world's fifth most populous country, the number of COVID-19-infected cases would soon run in thousands, if not millions.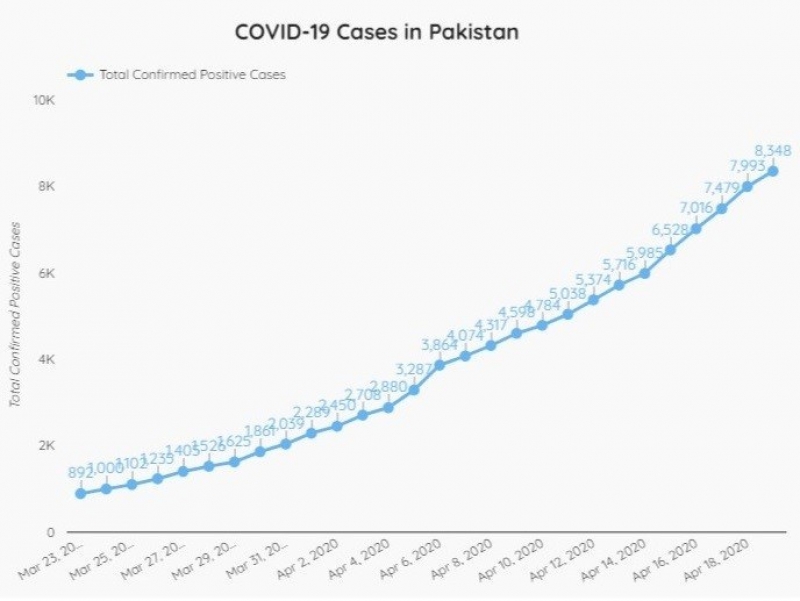 The government projection suggests that the COVID-19 cases will reach 15,000 by April 25th, and 50,000 by May 25th, a month later. The general perception is that the virus is widespread in the country that already is a hotspot of various diseases and infections. It is just a matter of increasing the testing capacity.
The Pakistani government has geared up all its resources and established platforms on the highest level, such as the National Coordination Committee (NCC) on COVID-19, chaired by the prime minister. A National Command and Control Centre (NCCC) has also been put in place, which meets on a daily basis, but the country's fragile health system is yet to be tested in the coming days. A government report submitted to the Supreme Court of Pakistan on 17th April reflects the country's very limited capacity in terms of testing, hospital beds, ventilators, medical equipment and even personal protective equipment (PPEs) required for medical staff, let alone for the general population.

Like many other countries in the world, Pakistan also resorted to a countrywide lockdown on March 23rd, which has now been extended to April 28th. While medical experts predict that Pakistan is headed to an unprecedented health crisis, the consequences of the lockdown and the declining business activities have already started to surface in shape of an economic crisis. Around 40 % of Pakistan's population was already living below the poverty line before it was hit by the COVID-19. The poor population also includes informal workers, who make up 73 % of the country's 65 million labour force. These undocumented, informal workers have been hit hard by the lockdown, as they depend on daily wages or piece rate earnings - paid when the work is done. They have lost jobs and earnings and have little to eat.

"While medical experts predict that Pakistan is headed to an unprecedented health crisis, the consequences of the lockdown and the declining business activities have already started to surface in shape of an economic crisis."
Pakistan's already small export of 20 billion dollars with Europe has declined to half, and all local businesses except a few exceptions are shut down. A new survey suggests that 51 % of Pakistanis may lose their jobs in the coming months. The medium- and long-term impact of the coronavirus pandemic is going to be the worst in recent history.
Relief package for those in need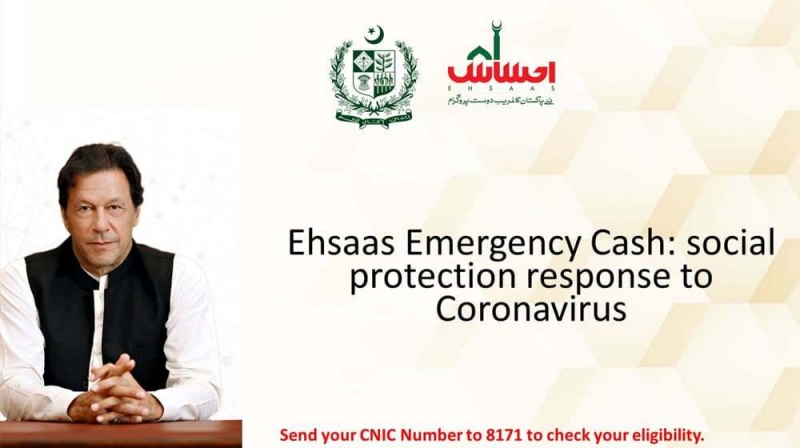 On March 25th, the government of Pakistan announced one of the country's largest ever bailout packages, worth PKR 1.25 trillion for COVID-19 related relief. The package included PKR 200 billion to be distributed among poor and daily wagers at the rate of PKR 3000 (US$ 18.18) per month for four months (March to June), which in total amounts to PKR 12,000 (US$ 73).
The amount is being paid under the Prime Minister's Ehsaas Emergency Cash Programme for 4 months to 12 million families across Pakistan. Official statements say the programme targets the most vulnerable and poorest of the poor, majority of whom are women. With its official launch on April 1st, the government claimed to already have distributed PKR 53 billion among 4.4 million people by April 18th 2020.
Though the amount $72 for four months is too little for a Pakistani average family, which is seven family members, the crowds of people – particularly women – who thronged to collect money from 17 000 cash distribution centers established across the country, reflected how desperately people needed cash support.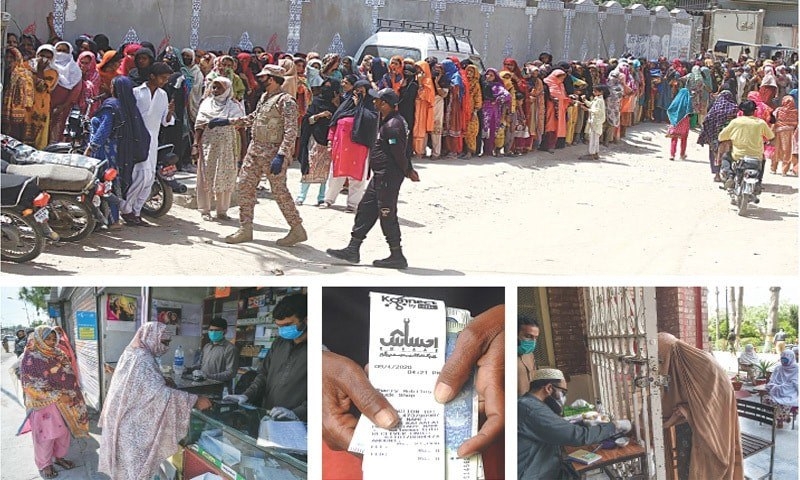 The government has also announced an additional PKR 50 billion for the Utility Stores Corporation to provide five basic edible commodities: Flour, rice, sugar, pulses and oil on subsidized rates.
The cash support programme of PKR 3000 ($18.18) a month is a small amount to live on. It is just 30 % of the government of Pakistan's official minimum wage of PKR 17500 ($ 106). Secondly, the 12 million targeted families only makes up 15 % of Pakistan's 83 million population living in poverty.
Obviously, the government has its fiscal space limitation argument, and is championing the programme as the largest ever cash support in Pakistan's history. However, it is clear that Pakistan is in need of global support and solidarity to meet the immediate needs of the vulnerable working class that are badly affected by coronavirus-related health and economic impact.
The NHRF invites different actors within the human rights field to contribute on this blog. The opinions expressed here are those of the authors.