In 2017, the first annual HRPI survey was sent to NHRF grantees to ask about their perceptions of the current human rights situation in their local contexts. The second annual survey was sent in 2018 and showed a slight increase in improved perceptions of the human rights situation. Our third survey was sent in 2019 and the results reveal how quickly situations can shift in the complex contexts where our grantees work.
Find the results from the 2019 HRPI in the graph below: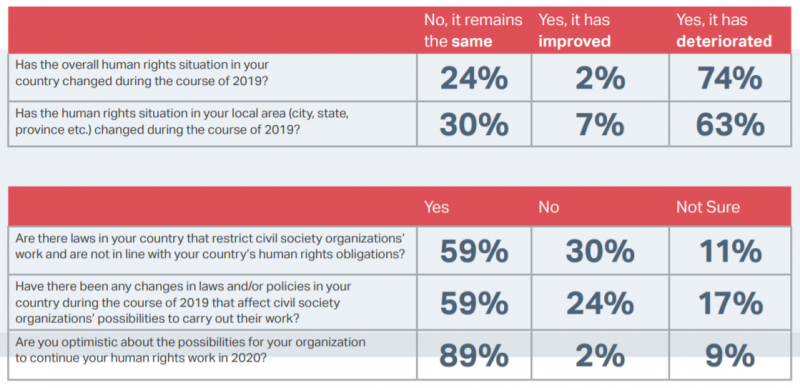 From 2017 to 2019, we see a 10 % spike in the perception of deterioration of the human rights situation in our grantees' countries, and an 7% increase in the deterioration in their local area (a 15% increase from 2018 at 48 % to 2019 at 64 %). Changes in laws and/or policies that affect civil society has increased from 2018-2019 but decreased significantly from 2017 (2017 at 72% and 2019 at 59%). But our grantees are remaining optimistic despite a challenging year for human rights work. In 2019, 89% are optimistic about the ability to continue carrying out their human rights work.
Photo: Women in Struggle for Empowerment (WISE).