On 11 January 2023, in what has been a widely reported incident, the President of Indonesia Joko 'Jokowi' Widodo, expressed regret and acknowledgment of the past gross human rights violations of Indonesia's dark history. The President added that the Government of Indonesia would establish a reparation program for the victims and survivors of these gross human rights violations without excluding judicial processes to guarantee non-repetition of such atrocities in the future. President Jokowi's statement came after he received a report made by a 'non-judicial' team consisting of former government and military officials and human rights activists set up by a presidential decree in August 2022. The team was tasked to formulate recommendations for reparations for the victims and on preventing similar violations from recurring in the future. From October to December 2022, the team met with human rights organizations, families of victims, and survivors across different regions in the country. They received mixed responses from them; while some accepted the non-judicial settlement, others rejected any non-judicial solution.
Indonesia's history of human rights violations
Between 1965 and 1998, Indonesia, ruled by an authoritarian military government, witnessed some of the worst kinds of human rights violations. Soon after the attempted coup d'état in 1965, between 500,000 and 1 million people were either killed or forcibly disappeared and hundreds of thousands of people were detained without trial as part of the anti-communist political pogrom. The Indonesian military forces were also accused of committing systemic human rights violations including the use of force against pro-democracy activists, against civilians in the Aceh province, Islamic activists in the Lampung province, and civilians in the Papua region where an armed pro-independence movement was present. Similar atrocities were also reported in Timor-Leste (formerly known as East Timor) during Indonesia's illegal occupation from 1975 to 1999. Excluding the East Timor atrocities, 12 such incidents were mentioned in President Jokowi's speech.
After the fall of the authoritarian government, the 1998 Reformasi (reformation) era began which brought both legislative and institutional reforms, including the establishment of a special tribunal and a human rights court to deal with past atrocities. Unfortunately, no one has been convicted for committing any of the gross human rights violations as of today. While dozens of official investigation reports have been made by the independent National Human Rights Commission (Komnas HAM), all have yet to be proceeded into prosecution by the Attorney General's Office.
Families fight for truth, reparation, and justice
For years victims and survivors, and their families, in Indonesia have been fighting an uphill battle for recognition of the truth, reparation, and justice. Some continue to face layers of suffering including trauma, poverty, and urgent needs for health care, and some survivors and families continue to be stigmatized by authorities and/or their communities. For the victims of the 1965-66 atrocities, some still face discrimination towards themselves, and even their children or grandchildren who are prohibited from working as civil servants, military or police personnel, or as teachers.
In the video below, Nurela Lamasitudju, Director of NHRF grantee partner Solidarity of the Victims of Human Rights Violations (SKP-HAM) in Central Sulawesi, Indonesia, talks about their work advocating for the rights of victims and survivors. Learn more about their strategies, challenges and achievements.
Organizations supporting and engaging with President Jokowi's initiative
At present it seems as though the non-judicial settlement is the most realistic solution amid the very limited success other initiatives have had. Especially given the President's indication that non-judicial settlements do not negate judicial ones. Two of NHRF's grantee partners in Indonesia, IKOHI (the Association of the Families of the Disappeared) and SKP-HAM (the Solidarity of the Victims of Human Rights Violations) in Central Sulawesi are victims/survivors-based organizations. They welcomed President Jokowi's initiative, primarily based on this argument. More importantly, the two organizations have played an important role in pushing and reshaping the non-judicial presidential team (Tim PPHAM).
IKOHI engaged with the government at the outset of this process to ensure the mandate was not against international anti-impunity standards. Furthermore, they also facilitated some of the meetings between the Presidential Team and the victims and their families from various backgrounds. In Central Sulawesi, SKP-HAM already had a breakthrough more than a decade ago by successfully advocating and campaigning for an apology to be issued by the local Mayor of Palu to the 1965 victims and survivors. The current presidential initiative of non-judicial settlement for the national victims/survivors seems to have been inspired by this well-reported success. SKP-HAM, together with the provincial Central Sulawesi government, not only facilitated the meeting between the victims/survivors and Tim PPHAM but is also preparing a special victims-based program to supplement the national's reparation program in the province.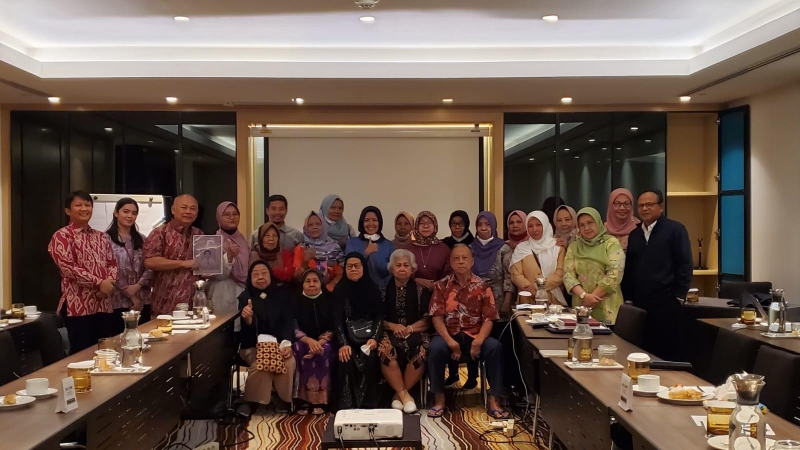 Critical views on a non-judicial approach
Meanwhile, in Aceh, another grantee partner of the NHRF, LBH (Legal Aid) Banda Aceh, who documented serious human rights violations and assisted the victims during the armed conflict period (1989-2005) voiced their refusal of the Presidential non-judicial initiative after meeting Tim PPHAM twice. LBH Banda Aceh, who works on a project furthering land and environmental rights under NHRF's support, opined that the President's priority of non-judicial initiative would not establish a deterrent effect for the future, and instead argued for the need to push for prosecution of the perpetrators before a human rights tribunal.
Although there have been mixed responses to the President's non-judicial solution by human rights groups and victims/survivors, everyone, including LBH Aceh, agrees that the victims, survivors and their families are entitled to reparation without compromising this for the ongoing call for truth and justice including a judicial settlement. In March 2023, President Jokowi issued another decree to further implement the result of Tim PPHAM's report. Civil society and victims/survivors-based groups, including some of NHRF's grantee partners, are gearing up to support and monitor the implementation of the non-judicial settlement. Additionally, they are also concerned about the fulfillment of this initiative and the continuation of such efforts given that the country faces a general election in less than a year from now.

"Although there have been mixed responses to the President's non-judicial solution by human rights groups and victims/survivors, everyone, including LBH Aceh, agrees that the victims, survivors and their families are entitled to reparation without compromising this for the ongoing call for truth and justice including a judicial settlement."
The NHRF invites different actors within the human rights field to contribute on this blog. The opinions expressed here are those of the authors.