The year 2021 has witnessed renewed efforts by families of victims of enforced disappearances in Pakistan for the release of their dear and near ones. These efforts included a sit-in in front of the Parliament House in Islamabad in February, which resulted in assurance by the Human Rights Minister Shirin Mazari, promising a new law against the crime of enforced disappearances. The Prime Minister was also kind enough to give audience to a few members of victims' families and assured them of the government's support in locating the whereabouts of their missing family members.
A national convention on constitutional and human rights held in the last week of March in Karachi unanimously demanded the release of all missing persons without any delay and asked for criminal proceedings against those involved in the kidnappings and then enforced disappearances of their own citizens.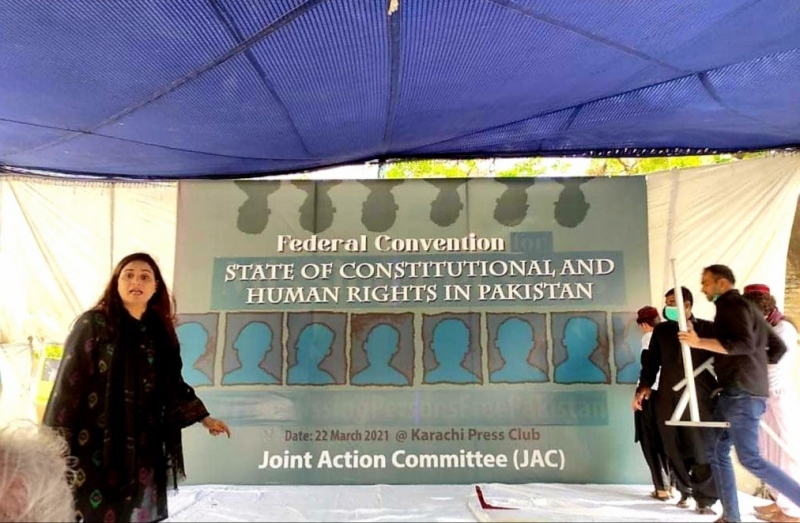 "The issue of enforced disappearances, or what is commonly known as a missing persons issue, is one of the major human rights concerns in Pakistan and we are yet to see a reasonable solution" Naghma Iqtidar, woman human rights defender from Pakistan
In the sizzling heat of April, there was another sit-in by the families of missing Shia persons in front of the Mausoleum of Qaid-e-Aazm Mohammad Ali Jinnah, the founder of the nation, in Karachi. They staged a similar sit-in in front of the President Arif Alvi's house last year in Karachi, which ended after authorities had released a few dozen Shia missing persons.
The victims' families identify themselves based on their ethnic and religious backgrounds, and some of the main groups of missing persons include people of Baloch, Pashtun, Sindhi and Shia backgrounds. Though the government assurances are yet to bear fruits, the issue is getting momentum as more frequent protests are held now than a year ago and courts are also asking tough questions to law enforcement authorities.

The first few cases of enforced disappearances in Pakistan were reported after 9/11 when the government of Pakistan picked up alleged Al Qaida affiliates and reportedly handed them over to the USA government. Since then, this tactic has been used by local intelligence agencies against a range of people including alleged religious extremists, political activists from Balochistan and Sindh and social activists, human rights defenders, and bloggers critical to military and armed forces.
The Commission of Inquiry on Enforced Disappearances (COIED) has received complaints of more than 7000 enforced disappearances in Pakistan since 2011. The commission claims of resolving 4822 cases, whereas 2122 cases remain unresolved. However, independent rights groups and victims' families claim that the actual number is much higher than reported by the commission, which they declare as an ineffective body.
The issue of enforced disappearances is also being highlighted at international levels. In September 2020, a group of UN experts called on Pakistan to end enforced disappearances of human rights defenders. In March 2019, Amnesty International reported that the UN working group has over 700 pending cases of enforced disappearances in Pakistan.
The UN Working Group on Enforced or Involuntarily Disappearances visited Pakistan in 2012 and gave a set of recommendations, including enacting a law to criminalize the practice. However, hardly any of these recommendations have been implemented.
The issue is already costing heavily on the image of the country nationally as well as internationally. The frequent protests with women and children with pictures of their loved ones in their hands are damaging the image of the country, which now sits on the UN Human Rights Council.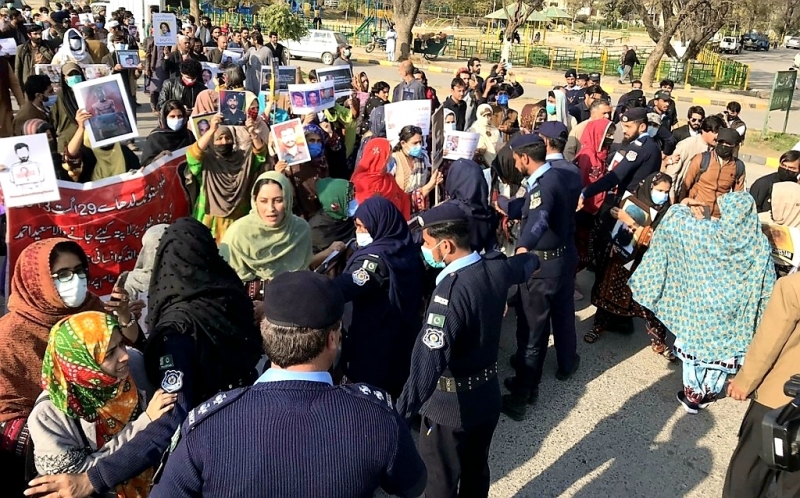 The victims' association and human rights activists say that authorities should locate the whereabouts of thousands of missing persons and made them public: "If they are wanted in any case, they should be tried in a court of law", says Sarang Joyo, a human rights defender from Karachi.
Advocate Ali Palh, based in Hyderabad, is the Coordinator of the Sindh Human Rights Defenders Network. He files petitions for the release of missing persons and sees a renewed hope that the issue would finally get resolved. "I really see a lot of activity and I am sure that the government would bring a law soon," he said. In his view, the courts have also been tough on authorities recently and asking police and other agencies to locate missing persons, which is a positive sign.
Pakistan needs to find a permanent solution to the issue and bring an end to the ordeal of thousands of families waiting to see their loved one reunite.
The NHRF invites different actors within the human rights field to contribute on this blog. The opinions expressed here are those of the authors.