"We decided that we were not going to return," Yeimy* says, with a cracked and somewhat fearful voice, from an "inhospitable" town, as she says. The place she is talking about is in Norway, her new home. She had to flee Colombia with her husband and two children in 2020 after being threatened for denouncing the actions of armed groups in the region she is from in Colombia.
Yeimy is an Afro-descendant human rights defender from southern Colombia, one of the areas most affected by the armed conflict. She became interested in social problems at an early age, and in recent years she has been working to solve problems in her territory. Then the problems began. She witnessed how armed groups murdered her nephew. Afterwards, they threatened her and gave her 48 hours to leave her municipality. She arrived displaced in Bogotá, the country's capital, told what happened to her, but did not get a victim status by the Colombian state.
This did not stop her. She continued to speak out about the situation in her territory. But the threats did not stop. "After each meeting, a threat arrived saying that they were going to finish off all our relatives", she says. When her daughter also faced threats, she decided to seek asylum in any country, and chose Norway. It was clear to her that not only her life was at risk. "We decided to leave with my two minor children because in our neighborhood, there were armed groups taking away the children and raping the girls", she explains.

"After each meeting, a threat arrived saying that they were going to finish off all our relatives"
They arrived in Norway in January 2020, with hardly any money. Wandering in the cold streets of Oslo, they found a Red Cross office and began another ordeal to be granted international protection. She recalls that they passed through several reception centers for asylum seekers. After 11 months that "felt like 11 years, their application was approved, entitling them to live and work for three years in Norway. They were relieved at last. "It was a break, we had decided that we were not going to return to Colombia because we could be killed", she says.
Yeimy continues her work as a defender and shared her testimony with the Commission for the Clarification of the Truth (CEV) in Norway. The Commission will collect voices of Colombians in exile in the report that the they will present in November this year. There are 29 testimonies, including that of Yeimy, collected by Nodo Noruega, a group coordinated by Caritas Norway that supports the work of the Commission in the Nordic countries. The Commission works with 23 support groups that have collected 790 interviews throughout Europe.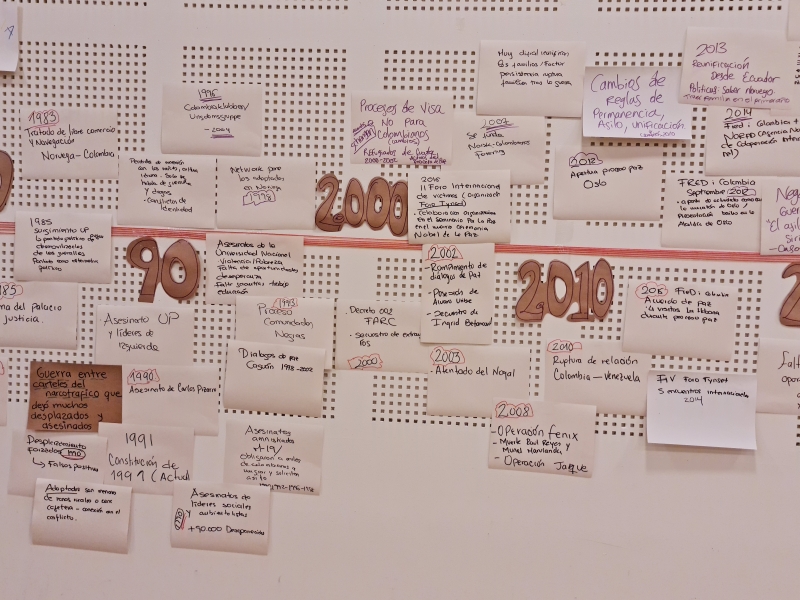 Today, on April 9, still far from her homeland, Yeimy is very much aware of the longing for peace in her country. "My main obligation now is to publicise the work of the organisations working for peace in Colombia", she says. Now she also hopes to be reunited soon with her 9-year-old daughter who is still in Colombia.
The Norwegian Human Rights Fund endorses the Commission for the Clarification of the Truth's role in achieving full reconciliation and reparations for the victims of the armed conflict in Colombia.
*Name changed for security reasons.